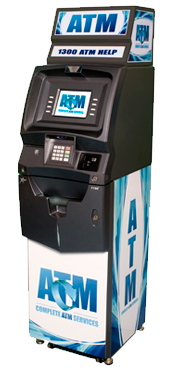 Xtremo Series
Introducing the Xtremo X-7400 model.
Its compact size ensures that this reliable and easy to use ATM will fit easily into your business premises.
Featuring a fast 15 second dispensing time and a choice of two cash canisters, 4 cash canisters or a rear loading machine, the Xtremo series of ATM is all you will ever need. View image galleries of the Xtremo range: X-7400.
The Xtremo can be equipped the way you want it, with optional features that include:
Large 8" colour screen
Stand-alone or through-the-wall installation
The Xtremo features a PC-based operating system that makes software changes or additions safe, easy and economical. Its front access and modular parts make maintenance fast and simple.
Wireless
The X-7400 utilises a wireless GPRS modem for communications, so there is no need for additional telephone lines. A regular electrical power point is all that's needed to power the machine.
No ATM can match Xtremo's rugged durability in the most demanding locations. Xtremos are engineered to minimize the number of mechanical parts. Fewer parts mean fewer breakdowns.
The result is that an Xtremo ATM will continue to dispense cash, provide prepaid convenience services and offer the simplest maintenance in the business long after competing ATMs have been replaced.
The attractive design, large colour screen, user-friendly interface and dip card reader make these machines popular with users in a broad range of leisure, hospitality, retail and convenience locations. 
Height: 165cm    Width: 45cm    Depth: 55cm 
Its compact size ensures that this reliable and easy-to-use ATM will fit comfortably into your business premises. 
Complete ATM Services' lifetime parts and labour warranty ensures that your ATM is always ready to dispense cash, and allows you to relax and enjoy the benefits of increased profits and higher customer traffic.
Xtremo ATM Technical Overview
A technical overview of the Xtremo Series ATMs and its components from Complete ATM Services.
Find out more about Xtremo ATMs
ATM Specifications
Module

X-7400

Display

8" TFT Colour display with built-in Vandal Cover

Resolution: 640 x 480

Keyboard/ EPP compliant

16 Numerical Keys, EPP with Triple DES

 

8 Function Keys

Card Reader

Dip Type (EMV 4.0 ISO 3-Track Read)

Printer Method

Direct Thermal Line Printer

Print Characters

English, Numeric, Line, Symbol, ASCII 96 Characters etc.

Paper Setting

Semi-auto loading method

Paper Width

79mm

Print Speed

100mm/sec (600 dots line/sec)

Receipt Capacity

Max 150 mm F diameter

Power Supply

DC24V

Cutter Life

300,000 cuts

Cassette Capacity

2,000 new notes (X-7200) 4,000 new notes (X-7400)

Dispensing Speed

Max. 5 Notes/sec

Interface

Serial (RS232C)

Access Direction

Front Access

Reject Box

Up to 100 notes

Number of Cassettes

Two - X-7400 (4,000 notes)

CPU

Intel PXA 255

Main Memory

64 Mb SDRAM

Fresh Memory

32M

O/S

Windows CE

Modem

RS232 Serial Modem (GPRS Cellpad)

Journal

Electronic journal

Language

Up to 7 languages

Security

UL 291 Business Hours Safe

 

La Gard Electronic Combination Lock

Power

220 VAC, 7A, 50/60Hz with Noise Filter

Dimension

450 (W) _ 550 (D) _ 1650(H) mm

Weight

120 Kg

Maintenance Access

Front Access

 

Operating Manual & Quick Reference Guide

 

Remote Management Software

 

Illuminated Topper